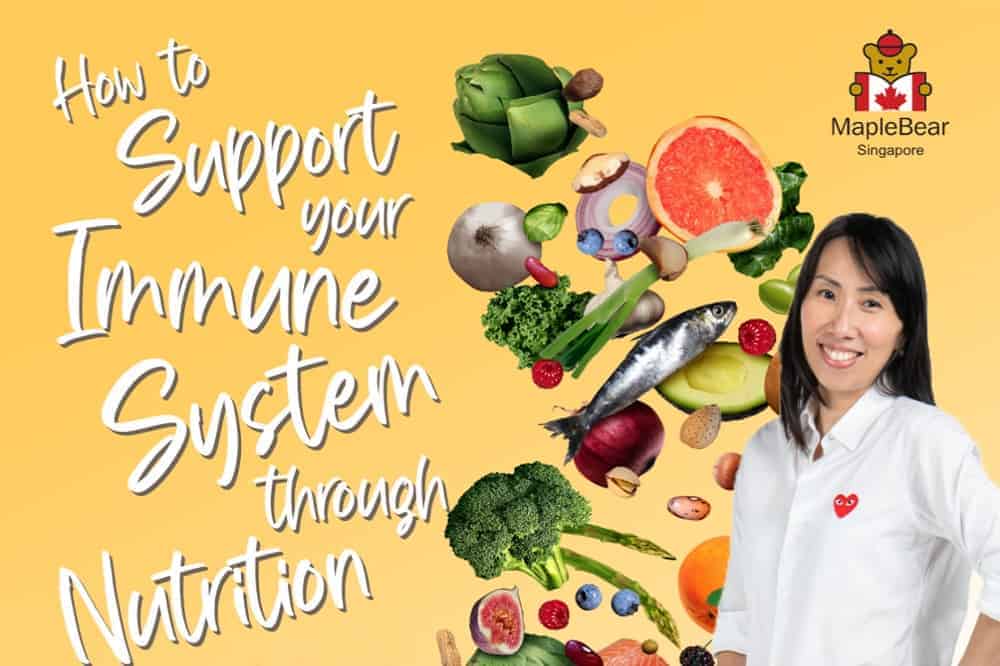 Posted in
Education
on Thursday, December 1st, 2022
Maple Bear Singapore organised a virtual workshop on 27 August 2022 for some 30 parents of children attending our preschools.
Sherlyn Quek, Maple Bear's resident school nutritionist, shared tips on how to strengthen our immune system through nutrition.
After explaining how our immune system protects us against harmful microbes and certain diseases, she defined two types of immunity ie. innate and active. The key factors affecting our immune systems include excess weight, old age, environmental toxins and lack of sleep.
Moving on to nutrition, she debunked the myth that an immune-boosting diet exists, emphasizing instead that obtaining nutrients from a varied diet is more important.
She stressed that diets limited in variety and lower in nutrients should be eaten with caution as these foods are not ideal for the health of our immune systems. These include ultra-processed foods and a Western diet high in refined sugar and red meats but low in fruit and vegetables, which can promote disturbances in healthy intestinal microorganisms.
A high-fibre, plant-rich diet with fruits, vegetables and legumes is highly beneficial coupled with probiotic and prebiotic foods to help stimulate immune cell activities. The adoption of the Healthy Plate concept is recommended which includes one portion of brown rice or wholemeal bread, one portion of meat and two portions of fruits and vegetables.
Sherlyn wrapped up the one-hour session with eight recommended steps, including managing stress and adopting a balanced lifestyle to support a healthy immune system.
Many questions were raised during the lively Q & A session, which provided an opportunity for parents to further clarify various myths and doubts with our resident nutritionist.
Sherlyn also works closely with our centre principals and cooks to ensure that healthy meals are served to our children at Maple Bear schools.